Hi guys!
Today's post is going to be about the one and only
Audrey Hepburn
, and I got inspired to write about her since watching the film
'Breakfast at Tiffany's'
on Friday morning - after admiring Audrey's style for quite some time, I'd never actually got round to watching this brilliant film, and because it was on the TV I actually missed the start of it, but nevertheless I thoroughly enjoyed it and it's only made me even more obsessed with the actress herself!
Audrey was a
British actress born in May 1929
, and was known best for her iconic role in Breakfast At Tiffany's - the character she portrays,
Holly Golightly
, is an elegant, fashionable, sophisticated lady, much resonating with her true self.
But it's not just her adoring, captivating personality which shone through the film that grabbed the world's attention - it was also her character's
iconic and timeless sense of style,
infusing femininity and glamour, taking fashion to a new level in the world of Hollywood.
In the opening scene from the movie, we see Holly wearing possibly the
most famous little black dress in history, designed by Givenchy
- paired with the elbow-length black gloves, stunning white pearls around her neck, dark sunglasses and beehive hairstyle, it became
one of the most unique and beautifully coordinated looks of the 20th century.
"

I'm an introvert. Playing the extroverted girl was the hardest thing I ever did.

"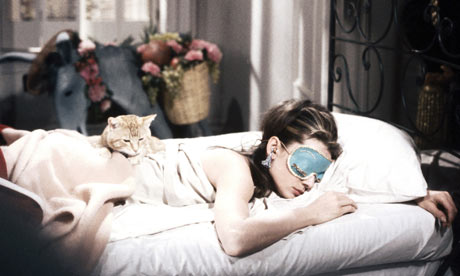 What I really loved about her character, in particular, was her free-spirited nature, and
positive outlook on life and her dreams
. She was very much a girly girl, unique in style and fashion conscious, and maintained these characteristics even when she was broke and going through a difficult time in her life. Despite the troubles she faced, she remained poised and dignified, always managing to look immaculate despite her circumstances and the challenges life threw at her. She was kind, warmhearted, optimistic and outgoing, and I was quite surprised to find out that her character, although very convincing, was unlike the Audrey in real life in one aspect - she admitted
"I'm an introvert. Playing the extroverted girl was the hardest thing I ever did"
. However, knowing this has somewhat provided me with a sense of comfort - as a fellow introvert, it's pleasing to know that
us introverted girls can get far in life
- and become a huge success and inspiration despite our personality traits!
Playing alongside her as the love interest in this movie was
actor George Peppard as Paul Verjak
, and the chemistry between these two throughout each scene was electrifying and nothing of a disappointment - the
passion, playfulness, and the way they acted as each other's 'anchors' through life
, holding each other up and getting each other through the tough times, made the recipe for a perfect and genuine romantic comedy, teaching us the sacrifices we make and duties we have to fulfill for the ones we love.
In the last scene of the film, Paul confronts Holly following her irrational behaviour and actions, saying
"You know what's wrong with you, Miss Whoever-you-are? You're chicken, you've got no guts. You're afraid to stick out your chin and say, 'Okay, life's a fact, people do fall in love, people do belong to each other, because that's the only chance anybody's got for real happiness.' You call yourself a free spirit, a 'wild thing,' and you're terrified somebody's gonna stick you in a cage. Well baby, you're already in that cage. You built it yourself. And it's not bounded in the west by Tulip, Texas, or in the east by Somali-land. It's wherever you go. Because no matter where you run, you just end up running into yourself."
It's obvious that Holly has a fear of falling in love, and allowing herself to be loved by someone else - she assumes it's a trap, dreads she'll be put in her cage, and doesn't want to belong to anyone. I can relate with this character, here though - in fact, I'm sure we all can. But as Holly soon realises, by being afraid to love, she's only sabotaging herself, and the end scene follows with Holly jumping out of the taxi, finding Paul and her drenched cat, and sharing a delightful kiss in the rain (aww).
The movie's huge success and loveable character combined, it's impossible that anyone will ever forget the beauty and talent of Audrey Hepburn - she will live on as an inspiration for many more young women, and will forever be known for her grace and classic sense of style.
The iconic eye mask complete with eyelashes - stylish even when sleeping!
And of course, who could forget that hat?
My modern take on Audrey Hepburn's style in Breakfast At Tiffany's
What do you think of Audrey's style? Who's your ultimate fashion icon?
Hope you all enjoyed today's post - let me know what you think in the comments
☺
"

I believe that happy girls are the prettiest girls.

"