Need to inject a bit of sunshine into your Monday?
Look no further than Nanette Lepore's Sexy S/S Swimwear Collection!
Ok, so I'll admit, at first, I had no idea who Nanette Lepore was. It's pretty ironic, but for a fashion blogger, I don't know the names of every single designer, I'm not at all the fashion show events, and I'm not constantly looking out for upcoming trends.
Don't get me wrong, I love fashion. But, I guess, I like fashion in my own biased way - I will talk about trends that I like, rather than anything, just for the sake of a blog post.
When I do write about a current fashion trend, or new collection from a particular designer, however - you can be damn sure I like it!!
And this is the case with Nanette Lepore's latest show. I actually discovered the photograph above from Tumblr, and immediately fell in love with the whole outfit. I thought to myself - I've GOT to figure out who designed this!
And so I came across the rest of the designer's stunning collection from inserting the image into a Google search.
What really struck out to me from the swimwear collection was the girly floral prints and coral, peachy colours - I love the high-waisted bottoms and bandeu bikini tops, and I especially love how she added a cropped blazer to some of the sets. Beachy fashion has never looked so modern and chic!
Here are some of my favourite outfits from the show.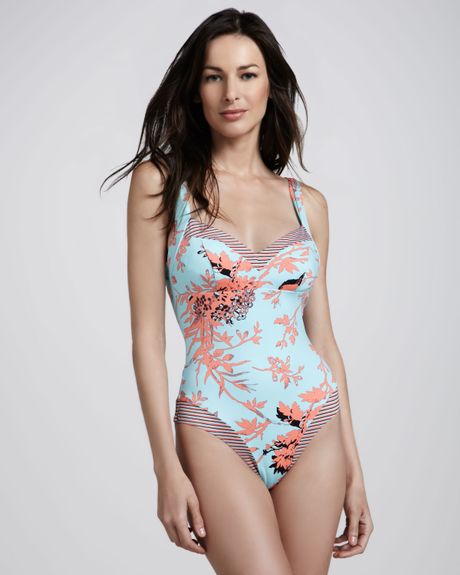 Definitely the one I would love to wear myself - beautiful floral print and high-waisted gorgeousness!
You can visit the whole collection of swimwear on the
Nanette Lepore website.
What do you think of the collection? Would you wear any of these yourself?
Let me know in the comments - I love to hear what you guys think!
Have an awesome week everyone!